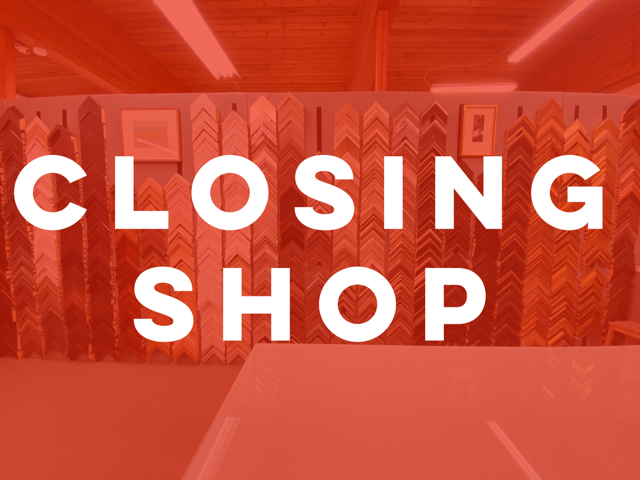 It is with mixed emotions that we are announcing the close of
Chernoff Fine Art Framing after 30 years of serving the Vancouver art community!
Despite having our busiest and most successful years ever, we have decided to step away from the framing portion of our business. 
We have sincerely appreciated your loyalty and trust in our company for the past three decades, as we framed hundreds of thousands of pieces!  It has truly been an honour to handle and care for your valuable artworks, and to help shape your visions for them.  Our loyal staff have worked by our sides, keeping deadlines met, and customers satisfied. CFA could not have achieved our success without such a great support team over the years so we acknowledge their dedication here as well.
We have made so many lasting friendships in this business, seen galleries come and go, and cheered on so many artists that have achieved successes large and small.  We are lucky to have been a part of such a vibrant community over the years.
Our love of art has not diminished!  After 30 years in the community, we feel that we still have a lot to offer and hope to continue doing business with many of you in the years to come. Cue the next exciting chapter as we pursue one of our first loves – collecting and selling and consulting!
WE WILL BE CONTINUING OPERATIONS AS CHERNOFF FINE ART SALES AND CONSULTING and will be posting more soon on that front as soon as the dust starts to settle…
Thanks again, everyone, and hope to see you soon in the upcoming weeks!
B R A D + K A R E N
THE FINE PRINT:
The framing portion of our operation will cease on May 31st, 2022.
This will be the last day we accept incoming artwork for framing.
Please email to book, as we will be working by APPOINTMENT ONLY.
We will not be able to honour any deadlines, work with special order mouldings, custom finishes or plexi boxes.
We will be having a HUGE art sale, followed by a sale of equipment and materials.
Stay tuned for further details.
Our loyal repeat clients may wish to retain their framing files as a resource to match further framing projects. We will have these available for pick up. Please let us know in advance.